GBH supports overseas food banks
Undertaking
for solidarity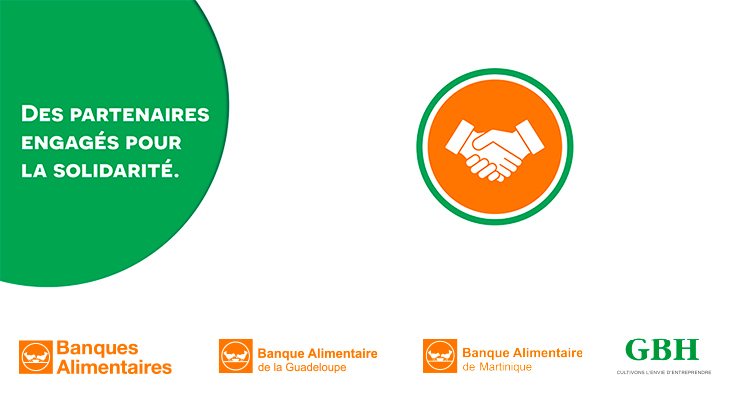 Since the start of the Covid-19 pandemic and despite the pressure on their stock, the three overseas food banks continue to pursue their mission to help the region's most disadvantaged. On Wednesday 19 January 2022, the FFBA (French food banks federation) and GBH signed a partnership agreement to help with the growing demand and replenish stock that is currently at its lowest levels. This is the first time that the food banks network has received such support across all three overseas territories at the same time.
Rising demand and critical stock levels
Since the pandemic hit, nonprofit partners of the three food banks on Guadeloupe, Martinique and Reunion Island are facing growing demand for emergency food assistance, both from people in need as well as many CCAS (local social action aid centres) which now require food bank services.
The number of recipients across all these territories has now risen to over 106,000, an increase of 41% since 2019, while the volume of aid handed out has gone up by 550 tonnes, a 45% rise.
The increased demand from all three food banks has had a direct strain on their stock since the beginning of the pandemic. There is now a shortage of food staples. Residual stock of products from the European Union is only enough to supply food parcels for just a few more weeks.
FFBA and GBH: two committed organisations
To cope with the unprecedented Covid-19 pandemic, the FFBA (French food banks federation) and GBH are putting in place a long-term and large-scale partnership to step up the aid given to the three overseas food banks.
GBH has earmarked logistical resources and funds to make available its container loading bays and ensure the supply of cargo to Guadeloupe, Martinique and Réunion Island:
- GBH will finance the transportation of food items in several containers a year thus affording the food banks access to its container packing platforms in mainland France.
- The FFBA will call on the support of its 76 food banks in France and its regular donors to step up coordination of emergency supplies.
The volume of goods transported to the three overseas territories will therefore increase by a considerable amount each year.
The first shipment was carried out, bringing over 75 tonnes of additional food cargo (staples including tinned fish, pasta, jars of baby food, cereal, lentils, milk and tinned meat). This equates to over 150,000 additional meals to be distributed between nonprofit partners.
GBH, through its Carrefour subsidiaries in Martinique, Guadeloupe and Réunion Island, has donated over 778 tonnes of food to food banks, the equivalent of over 1.5 million meals handed out every three years. GBH's Carrefour subsidiaries have worked alongside the local food banks for several years to secure the donation of food items and continue their aid actions to local organisations.
'We are delighted with this wide-scale agreement with GBH. This is the first time that our network has received support from all three overseas territories at the same time. This means we will be able to do much more to improve our supply of food products in these territories and support our entire network across the entire overseas region," explains Claude Baland, President of the FFBA.
While Rodolphe Hayot, Executive Officer of GBH, says: "We are very much aware of the insecurity that exists in the departments where we operate. We felt it important for our group to make further efforts to support aid actions in these territories and in particular those aimed at food banks. We wanted to provide assistance to the overseas food bank at the national level by offering our logistics tool to transport free of charge additional food products to Martinique, Guadeloupe and Réunion Island."