"I'm choosing Réunion", Carrefour's commitment to local production
Undertaking
for local production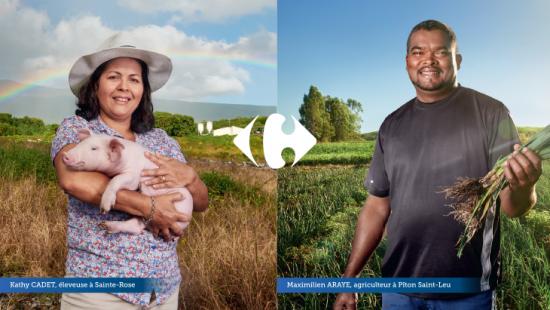 Choosing Réunion
For some time now, people from Réunion have seen the adverts: "I'm choosing Réunion" by Carrefour Réunion. They emphasise the local production and agrifood industries with which GBH has worked for 35 years. It was time to talk about them. Read the article from Mémento.
Salads by Mr Payet from La Bretagne, beef from Corinne Picard's family farm, or delicious products by Cédric Dally, etc. For a few weeks now people from Réunion will have seen the fortunes of producers, farmers, and processors told through online video advertisements and social networks. 
ONE SLOGAN, MANY ACTIONS. The Groupe Bernard Hayot (GBH), and Carrefour Réunion in particular, are behind this promotion of local production. "In real terms, the group has been working with local agrifood industry players for 35 years," explains Amaury de Lavigne, director of Carrefour Réunion. But until now the group didn't communicate about this facet of its activity".
This is a welcome change of course in terms of communication as it allows GBH, recently criticised for its takeover of Vindémia, to showcase its involvement in the department and its actions supporting the local economy. Having a strong local presence is important for Carrefour Réunion, which hasn't forgotten its "responsibility to help with the island's development". For Amaury de Lavigne, "I'm choosing Réunion" has several dimensions. "Of course, it means choosing local production and industry, but it's not just that," says the director. For Carrefour Réunion, this slogan also refers to investments undertaken, the most recent being the purchase of Vindémia. "A significant investment – €219 million without a redundancy plan and with an effective price drop in stores of over 5%" says Amaury de Lavigne.
COMMITTED ON ALL FRONTS. "I'm choosing Réunion" also means contributing to the purchasing power of Réunion people and encouraging local employment. The director of Carrefour defends the group from critiques levelled against it, "If we invest, we're accused of wanting to have everything , and if we don't, we're accused of not doing anything" he says. Carrefour Réunion, and GBH in general, won't be afraid of stating what they do and what they do well from now on. The director continues to list the group's actions in support of Reunion Island: training in partnership with Bellepierre Secondary School, and RPL (Recognition of Prior Learning) and work-study programmes, from which 25% of the group's executives have come, among others. "Carrefour Réunion accounts for over 2,000 jobs, reiterates Amaury de Lavigne, "and 150 employees have a degree thanks to an RPL". For him, improving employees' skills and employability is paramount in the current socio-economic climate.
"'I'm choosing Réunion' means local skills, young Creole people, jobs, investment, the economy, training, and of course local production", he says. As evidence of this, he points to Carrefour Réunion's 30% turnover share that comes from products from the péyi agrifood industry, as well as the inter-profession charter, integrated since its creation. "It's a real commitment, it's not just a picture we're painting of ourselves, it's a philosophy that we live every day in stores, with customers, with employees, and with suppliers" he concludes.