Journey of a young Réunion woman returning to the island thanks to a GBH job offer
Undertaking
for the training and integration of young people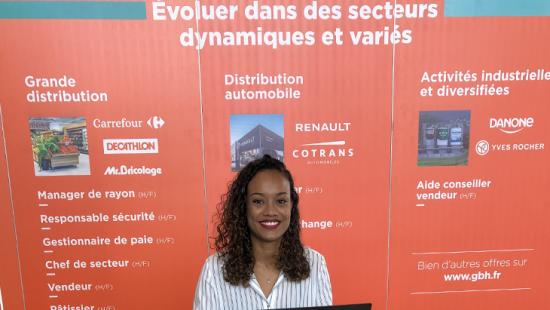 Clarisse Albac had a wonderful academic career that led her from Bellepierre to Shanghai by way of Bordeaux. She has returned to her island today thanks to a GBH job advertisement in a group company that recruited her for her first internship. The young woman is a HR administrator at Automobiles Réunion in Saint-Denis, and she conducted face-to-face interviews and gathered CVs over the two-day Job Fair at the Nordev exhibition centre. Read her interview in TV Mag+ Réunion.
A native of La Montagne, Clarisse Albac forged her own path. It was in preparatory classes at the prestigious Bellepierre school that she discovered Human Relations. "To pass the first year, you have to get an internship with a company. The GBH chains, partnered with Bellepierre Secondary School, held job interviews and I was recruited by the Automobiles Réunion HR administrator," recalls the young woman.
Within this organisation, she learned the basics of HR and got familiar with a renowned international group. Successfully passing the competitive examinations, she went to Bordeaux to enrol in the Master Grande Ecole at KEDGE Business School. She took management classes there; this metropolitan experience opened up new prospects for her. She learned how to get along all by herself, without her family, she jokes today.
She did two internships in companies during a gap year and it was then that Clarisse decided to pursue a career in HR. She worked in two companies: one in real estate and the other in IT. One high-demand sector where you have to go looking for candidates, and another where you have to wait for job advertisements! You have to adapt to the business sectors, to the specifics of the profiles and companies. Clarisse's passion for HR was confirmed and so was her desire to make a career out of it. She then left for China to spend four months at the University of Shanghai where she met lots of international students. "I've been passionate about Asia for a long time and I wanted to discover China. Being able to study there was a real opportunity," says Clarisse. She took the plunge into this complete change of scenery, a mix of modernity and tradition, and discovered a lifestyle where youth is experienced differently and with rigorous ways of working.
After this international experience, she finished her academic curriculum and defended her dissertation on psycho-social risks like cyberbullying in companies and companies' responsibilities, and finished with an end-of-study internship.
Ambitious and responsible, Clarisse began looking for work a few months before her studies ended. She directly applied what she had learned to her own job search and highlighted her international profile, showing her curiosity about the world. Almost by accident, she discovered a GBH advertisement for Automobiles Réunion based in Saint-Denis. The dream of going home might just come true! "The contact person for the advertisement was the alumni advisor from Bellepierre, so at the start of the conversation it was more like we were just getting to know each other. Then I realised that the conversation was turning into a job interview. I didn't think it was possible," says Clarisse, still surprised, telling us about how she got this first job.
"I wanted to have a job that matched my studies. I thought I was going to have to start my career in mainland France when I saw this advertisement for an administrator where I'd done my internship, I said to myself, maybe... Christine Martin, the HR manager at Automobiles Réunion recruited me and I was able to return home sooner than expected". 
She waited until everything was in place before telling her family the good news, then she got a one-way ticket and joined GBH. "We had already talked about the groupin preparatory classes, we knew that GBH had a strong presence on the island. Coming back to work for a big company was a bit of luck. You don't really think that there are opportunities in Réunion but in fact there are!" Attending the Job Fair at the Nordev exhibition centre, Clarisse conducted interviews with job seekers who wanted to join the group. "Once you join the group, there are loads of opportunities for progression and training. There are gateways between chains, even between different locations." says the young woman before getting back to her interviews.