The School of Management and GBH are setting up the first DistriSup-labelled training programme in Réunion
Undertaking
for the training and integration of young people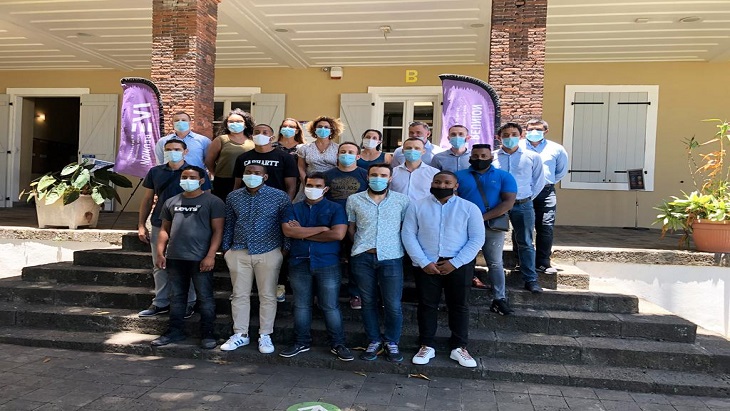 The School of Management and GBH are joining forces to create a Vocational Degree for future department managers on the island. This 3-year higher education degree is the first in Réunion to qualify for the DistriSup label. It responds to the significant need for qualified staff in the mass retail sector that is currently thriving in Réunion.
Setting up a degree to train future department managers

Under the impetus of GBH, the School of Management launched its new DistriSup work-study degree (3 years' higher education) on Monday 18 January with the objective of training future department managers. 11 learners have begun their 12-month work-study training programme, splitting their time between university classes and working at GBH subsidiaries Carrefour Réunion and Décathlon Réunion. The objective of this degree is to train professionals who are already working as well as young people studying three essential retail skills: business, logistics, and management. At the end of a training programme delivered by School of Management teachers and professionals, the learners will have to present a dissertation. The degree is open to all the mass retail chains in the area.
The first DistriSup-labelled training programme in Réunion

This degree is the first training programme in Réunion to qualify for the DistriSup label and the second in Overseas France, after a degree taught in the French West Indies. The School of Management and GBH have joined the DistriSup network, which groups 17 national mass retail chains as well as 20 or so French universities and schools. Its mission is to ensure the training of future professionals in the business sector through proven expertise, which grants it an indispensable guarantee of quality. This first class is made up of 3 new recruits as well as 8 employees who have already been working with us for several years.
Mass retail, a sector full of opportunities for young people in Réunion

Mass retail has a prominent place in Réunion in terms of economic growth and the number of jobs available, with over 5,000 employees in the territory. GBH subsidiaries also hired nearly 50 permanent staff members in 2020 despite the difficult climate. In addition, training and internal promotion are major focuses of the company's human resources policy. As such, 70 employees have been promoted to supervisor and manager roles since 2019. "This training programme contributes to the local recruitment of young people from Réunion and encourages their professional integration. It also offers our employees the opportunity to obtain a recognised degree and to prepare for positions of responsibility", says Pascal Chavignat, HR Director of GBH.

According to Amaury de Lavigne, regional director of Carrefour Réunion, this training is also a way of sharing experience, enthusiasm, and passion for professions in mass retail. It will enable chain employees to imagine themselves in senior management roles. "All our teams, and their mentors in particular, are involved in training these young people so that they can access positions of responsibility within our chains in the area. We hope they enjoy the training programme!"
https://www.iae-reunion.fr/